Apparently yesterday was Leaves in Relief day over on
knitting.

I am quite fond of the pillow. There's a reason why my current cable design project is an afghan instead of more sweaters.

And speaking of my patterns on Knitty:

A tale of two socks

The first thing I thought of was actually the article, and then I decided to write a pattern to go with it. At the time, I thought it would all be ready for the sock issue, so I decided to make mini-cabled socks, based sort of loosely on these or these. I really liked the interlocking cables on the second set, so I decided to expand on that.

(Jenna Wilson has a funny story about the cables on Rogue: she was convinced that if she didn't break the six-rib plait with those funny twisting things, she wouldn't be able to hear. I have an equally silly belief: that if I didn't link all of the mini-cables up in the back, the socks would fall apart.)

This is what I came up with first: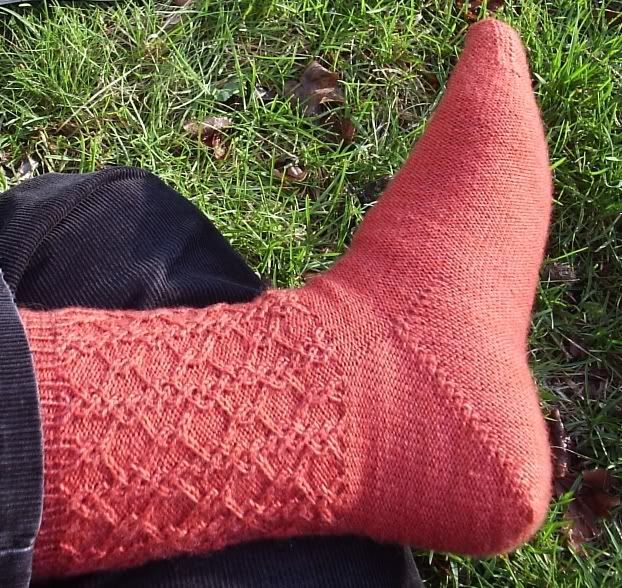 It looks fine if you're wearing shoes: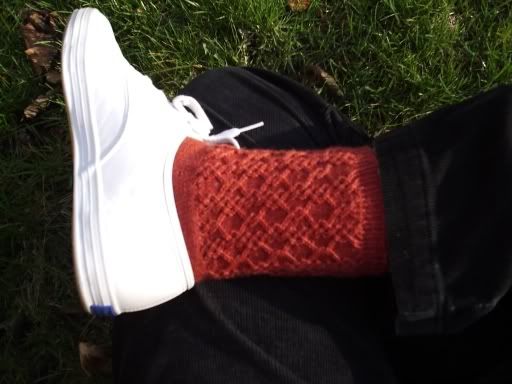 However, Amy thought that it looked unfinished, and would I mind redoing it so the cables went down the foot? I decided I didn't, and then worked up the final version. I had to turn it around: the original version is toe-up with double-gusset short-row heels (my favorite), but I decided that if I was going to have cables on the heel, I had to use a heel flap, and if I wanted them on the heel and the instep, I had to work the leg first. Otherwise it would be just too easy to start the heel flap a row too soon or too late, and then the cables wouldn't line up.

I now think that if I had done toe-up socks the way described in Sensational Knitted Socks, I could have made it work. Those work toe-up heels exactly the way they work cuff-down heels. So the heel flap ends up under the heel instead of behind it, and the gussets extend up the ankle instead of down the foot. The point is, the end of the instep and the heel are worked at the same time; I could have just said ``Work row N of cable chart over the instep, work gusset stitches, then work the same row over the heel.'' Well, a little more complicated than that, but you get the idea.

Ah well. It worked out fine this way.

Now for it to get cold enough to justify wool socks!