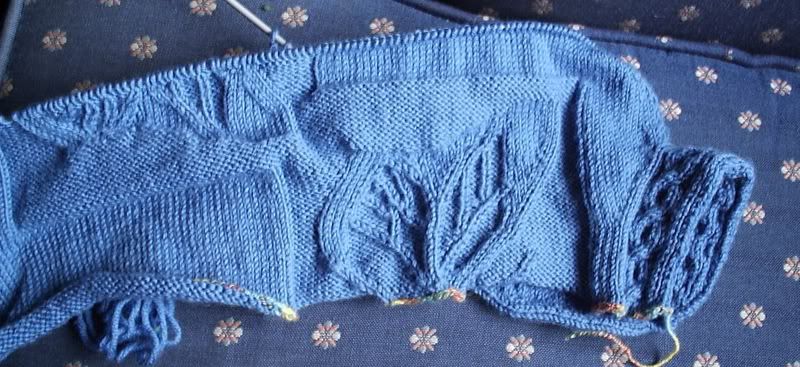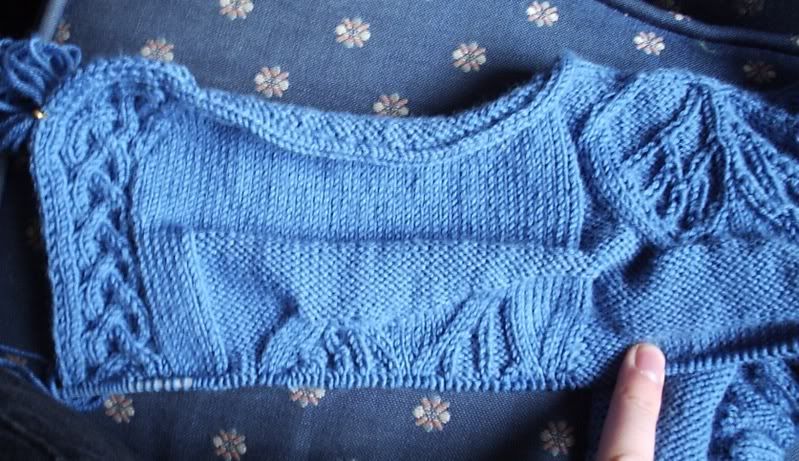 Two more (embarrasingly blurry) pictures are on Photobucket, here and here. If this was the finished object photo, I would go back and do it right, but...well...it's not. And the cabling looks like a mess pre-blocking anyway.
Project specs: Yarn is Cascade 220 Dolly, which is machine-washable. (I've never used this stuff before, so I'm not totally sure.) I'm using 3.25mm needles.
The butterfly pattern is the one I've used before. The cables on the hem and collar are pretty simple; the method of attaching them is based on that of Jenna Wilson's Eris. I'm designing this myself. It's going to be a child-sized cardigan, knit side to side. The pattern will probably end up on the Knitting Vault.
One thing I've noticed about side-to-side sweaters: you have to plan out the entire thing in advance. When you start, you are working on the hem, body, and collar all at once; you have to know what they all look like. Bottom-up (or top-down) sweaters you don't have to know everything in advance. So it's been a slow start, but I think I'm getting the hang of it.