FOs
When I saw
klayre's dice bag, I decided to make one for my boyfriend's little brother. I had several mostly-complete balls of leftover yarn, including a pink one from when I made a teddy bear for my eight-year-old female cousin.
Sam visited around when I was planning this, and very emphatically reassured me that if I made him something pink, he would like it and use it and not try to lose it.
But I decided not to inflict pink upon him.
I used a ball of yarn that says "Schachenmayr nomotta EXTRA" on the label. Which is the name of the yarn and which is the name of the company I don't know. It's a 100% wool sportweight.
I modified the pattern to require no seaming-just a cast-on, a three-needle bind-off, and then sew the zipper on. (I haven't gotten to that last part yet.) I made natural "fold lines" for the bag by working it in reverse stockinette, with four lines of knit stitches, which I moved around using increases and decreases. Actual pattern will be written out if anyone wants it.
When my apartmentmate Nick found out that I was making Sam a dice bag, he was a very loud proponent of the "pink dice bag" plan.
Now, Nick is a Lovecraft fan, and so he clearly needed one of
moon_custafer's Knithulhus. And I had to use the pink for something...
Yarn is Zara. This is a nice, soft merino sportweight. I used #3 needles. And I still have part of the ball left.
I modified the pattern somewhat. First, rather than CO 30 at the start of the head, I CO 6 and then worked 6 increases per round for four rounds, until I had 30 sts. This did mean I had to stuff the head just after Round 10, rather than when I was done knitting. Also, I replaced Round 11 with: "k2tog, knit 2, repeat till end of round; k 1, k2tog, repeat until end of round."
Also, I bound off the wings just after working Row 3, not just after working Row 4. I wish I had worked a single row (of plain knit) just before starting the pattern rows for the wings. Ah well.
In the part of the head where I was instructed to work in waffle stitch for 2 inches, I worked for 16 rounds. The body was a seed stitch square 26 stitches wide and 44 rows tall.
moon_custafer calls these measurements "about 2 inches" and "4-5 inches", which bothers me, since she doesn't give us any idea as to the gauge.
I liked this one better than the last stuffed animal I made-LOTS less seaming.
This one was crocheted, not knit, out of Dale of Norway Baby Ull with a B hook, which I think is too small. It was a Valentine's day present for my boyfriend. It's a mathematical surface whose boundary is a knot. I suppose if I had wanted to be fancy, and if I had knitted it, I would have applied some I-cord in a contrasting color to the boundary, so you could see it being a knot.
Speaking of which: can anyone think of a knit-stitch pattern that (a) doesn't curl, (b) looks good on both sides, (c) looks different on both sides, and (d) isn't too huge?
Edit:
preternatural wrote out instructions for "bamboo stitch" here. For convenience, what she said was:
I quite like bamboo stitch - it angles a wee bit to the side, but that blocks out nicely. Each side has a distinctly different pattern, and both look neato, and since it's all K stitches, it lays flat:

over even number of stitches:
1: k1, *YO, k2, pass YO over 2 k stitches* rep to last stitch, k1
2: k all
I made Broad Street Mittens for myself last year. The problem is, they have lots of thick fabric between the fingers, so you have to hold your fingers apart, and so the mitten shell has to be big enough to allow for that, which means that it's less warm than it could be. So this is a simplification. I actually worked them from the top down.
I thought I finished these last spring-right in time for them to be unnecessary. So today I dug them out to finish in ends and to sew down the ribbing flap on the front, and discovered the cuffs were too tight. That is, when they were on my hands, they were fine, but the cuff was so tight it was a real pain getting my hands through. So I frogged back to the hand and redid the cuffs with more stitches.
Yarn is Zara, just like Cthulhu. This is a coincidence. This came out of two balls my aunt gave me for Christmas. One ball yields a bit more than one mitten.
WIPs
This is my current "traveling" knitting. It's made out of laceweight baby alpaca, and I bet the one 50g ball will be plenty. It's a pattern simple enough to have memorized, but complicated enough to hold the attention. It will be bound off approximately "when I get sick of it."
This is a sweater I am making for my dad the Tolkein fan. It's in Knitpicks Shine in River, which is very slippery. This is cotton and modal, instead of wool, but my parents live in the Bay Area, so this shouldn't matter too much. I don't think I shall knit much with cotton, however. After a while, it cuts into my hands. Plus, I'm worried about it sagging. Ah well. I don't think I'm yet to the point of taking it apart and starting over in a wool.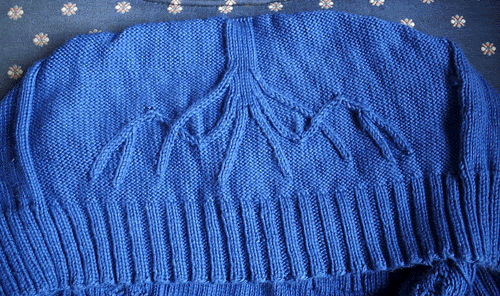 This is the bottom of the front of the sweater. It's going to go on to be the tree on the front of Faramir's jacket in most of Lord of the Rings. The roots are larger versions of the ones from the new and improved Arwen's tree pattern, because I like how they look.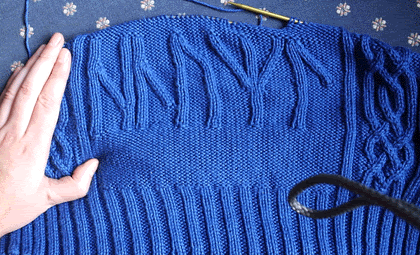 This is the back. It's going to have four lines of runes, framed by a cable pattern. The runes shall say "Im Ariel hain echant", which means "I, Ariel, made this." It is taken from the inscription on the Gate of Moria, but transcribed into runes, because runes are easy to knit and Tengwar is not. Most of the runes are from Elsebeth Lavold's "Viking Patterns for Knitting."